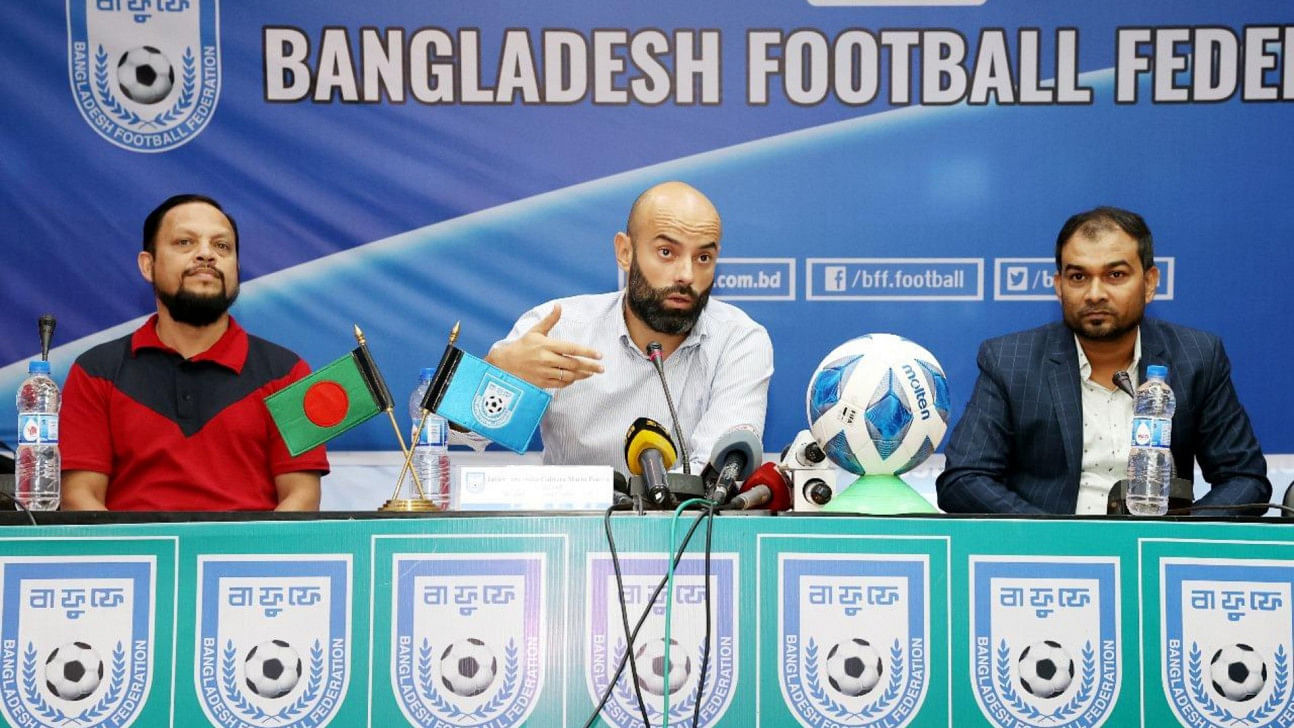 The head coach of the Bangladesh national football team, Javier Cabrera, said that his main goal in the two FIFA Friendly matches against Afghanistan next month would be to keep the momentum from a successful SAFF Championship campaign and try to get a good result against Maldives in the World Cup Pre-qualifiers in October.
The two FIFA friendlies will take place on September 4 and 7 at the Bashundhara Kings Arena in Dhaka. 32 players have been asked to report today. The team will stay at the Regency Hotel and start training the next day. Afghanistan is scheduled to arrive on August 6 and will follow the same schedule as Bangladesh.
These will be the team's first international games since June and July, when Cabrera's team made it to the quarterfinals of the SAFF Championship in India.

"Our main goal is to get ready for the Maldives. We are playing at home and we want to win, so we will definitely go for the win," the Spaniard said at a press meeting yesterday at the BFF House to name the basic team.
"We want to keep up the good work we did at SAFF. It must be that, and we can't do any better. We can't let that happen. But we know Afghanistan is a strong team, especially in terms of physical strength," Cabrera said, adding that the results against Afghanistan won't be his top goal. Instead, he'll use these games to get ready for the Maldives.
The men in red and green beat Maldives 3-1 in the SAFF Championship. On October 12 and 17, they will play their South Asian rivals in a double-leg World Cup Qualifying group stage match.
In his 32-person trial group, the Spaniard added two new players and left out one from the SAFF Championship team.
Dipok Roy, a forward for Sheikh Russel, and Sarwar Zaman Nipu, a forward for Azampur FC, are the only two new players in the preliminary group. However, both players are well-known in local football and have been seen as coming stars for a long time.
Rafikul Islam, a forward for Fortis FC, is the only player who didn't make the last team that played in the SAFF Championship.
A number of experienced players, such as Rimon Hossain, Saad Uddin, Alomgir Molla, Matin Mia, and Jafar Iqbal, also came back to the team.
The coach, on the other hand, said that this team has some players from the Asian Games who will stay with the team until the second game against Afghanistan.
But not all of Cabrera's players will start training on Monday. Only players who haven't played in recent AFC games will start on Monday. Eleven players from Bashundhara Kings will join on August 25, and six players from Abahani will join on August 27. Captain Jamal Bhuiyan, who is currently in Argentina, will probably join the camp at the start of the second week.
Group of:
Anisur Rahman, Shahidul Alam, Mitul Marma, and Pappu Hossain are the goalkeepers.
Defenders: Bishwanath Ghosh, Topu Barman, Tariq Kazi, Rimon Hossain, Saad Uddin, Rahmat Mia, Alomgir Molla, Murad Hasan, Mehedi Hasan, Isa Faysal, and Atikuzzaman.
Sohel Rana, Sheikh Morsalin, Mohammad Ridoy, Mohammad Sohel Rana, Abu Shaied, Mojubur Rahman Joni, Robiul Hasan, Jamal Bhuiyan, and Mohammad Ridoy are all midfielders.
Forward: Rakib Hossain, Matin Mia, Sumon Reza, Faysal Ahmed Fahim, Dipok Roy, Aminur Rahman Sojib, Sarwar Zaman Nipu, Jafar Iqbal, Mohammad Ibrahim.