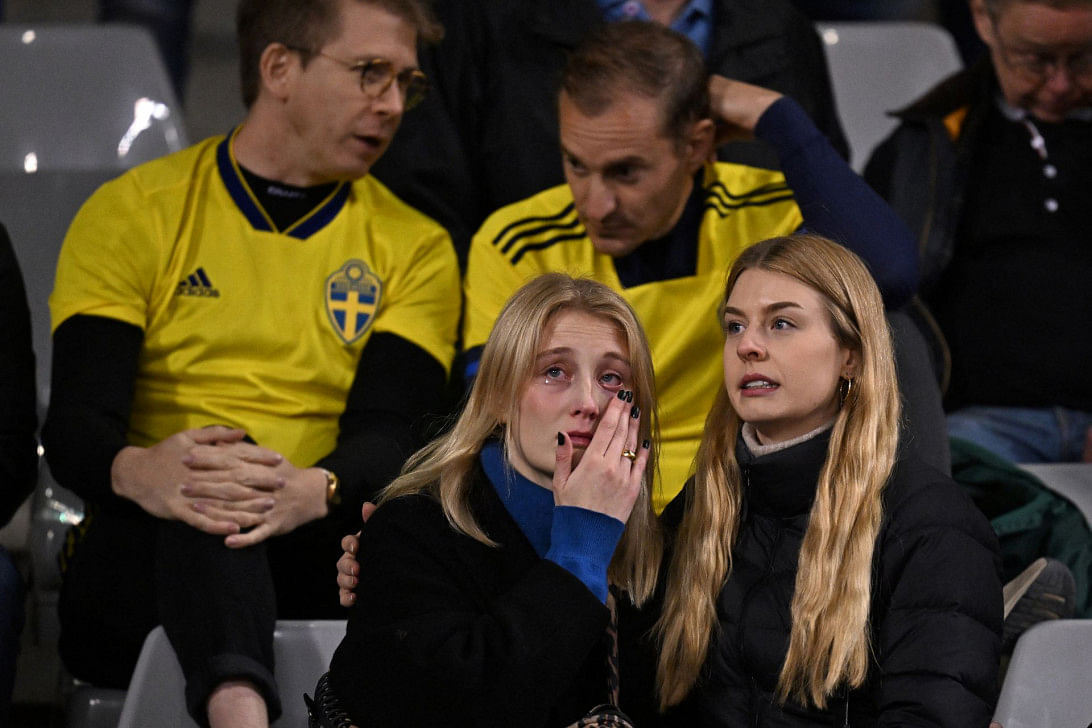 After an attack on Monday in which two Swedish nationals were killed by gunfire in Brussels, the second half of Belgium's Euro 2024 qualifying match against Sweden was called off for safety reasons and supporters were asked to remain inside the stadium.
Following the news that the players would not be returning for the second half of the match, spectators at the King Baudouin stadium in the Belgian capital were instructed to remain inside the stadium grounds.
"Following a suspected terrorist attack in Brussels this evening, it has been decided after consultation with the two teams and the local police authorities, that the UEFA EURO 2024 qualifying match between Belgium and Sweden is abandoned," UEFA announced on its official website.

According to the Swedish Football Association, the Belgian police instructed fans "to stay in the arena for security reasons."
In an incident that the Belgian prime minister referred to as "terrorism," a suspect is still at large after being responsible for the shooting deaths of two Swedish nationals.
According to a number of publications in the Belgian media, the two people who were slain were both dressed in jerseys of the Swedish national football team.
A post on the social media accounts of the Swedish Football Association read, "Our thoughts go out to all of the relatives of those affected in Brussels."
On their official Twitter account, the Belgian national team said, "Our thoughts are with all those affected."
Romelu Lukaku's penalty kick gave Belgium, who were already qualified for the competition that would take place the following year, an equaliser after Viktor Gyokeres gave Sweden the lead in scoring before the play was stopped with the score even at 1-1.
After learning about the attack, the Swedish players reportedly expressed disinterest in continuing the game to their compatriots in the Belgian media.
Austria had earlier on Monday become the eighth team to clinch their place at the finals in Germany thanks to a 1-0 win in Azerbaijan in the other Group F encounter. This victory allowed Austria to book their spot at the finals in Germany.
Marcel Sabitzer, a midfielder for Borussia Dortmund, was brought on as a halftime replacement and scored a penalty just three minutes after entering the game for Ralf Rangnick's team.