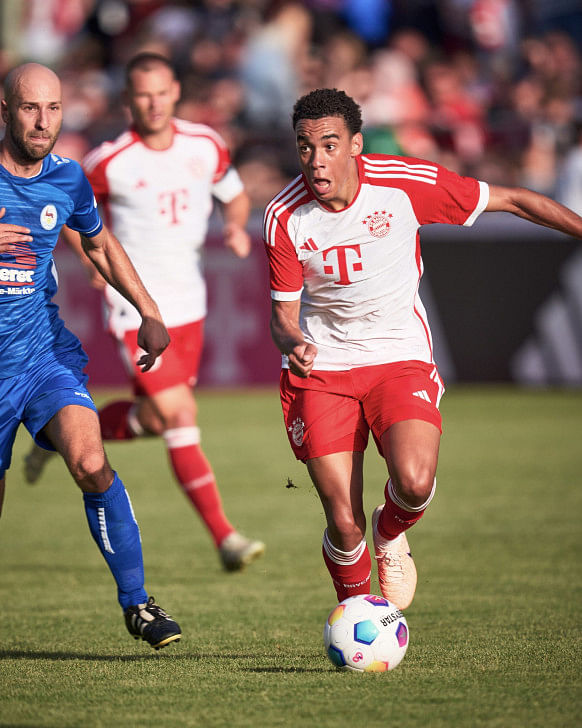 Rottach-Egern, a team playing in the ninth division, may have been under the impression that Bayern Munich would use Tuesday's pre-season encounter as an opportunity to ease back into competition after a long hiatus.
However, the German champions proved them wrong by cruising to a 27-0 win against Rottach-Egern.
Amateur side Rottach-Egern were all smiles as they posed for the pre-match picture before the match, which was part of Bayern's training camp in Tegernsee before they embarked on a tour of Asia.
However, the smiles were swiftly replaced with frowns when Jamal Musiala scored the game's first goal in only the third minute. This was the same player whose late goal in the last game of the previous season sealed the championship for Bayern.

Before the second half, which was again a one-sided affair, Bayern's head coach Thomas Tuchel altered the lineup for the whole team. At the halfway break, Bayern had an 18-0 lead.
Musiala, Marcel Sabitzer, and Mathys Tel each scored five goals, while Serge Gnabry tallied a hat trick; a total of 13 players found their way onto the scoreboard.
"We've made more progress than we had previously, and we've been working really hard. Tuchel said after the game that while it would be difficult and taxing, everyone is prepared for it.
Bayern has established a custom of opening their preseason schedule with a match against Rottach-Egern, which they won 23-0 in 2019. In 2018, Rottach-Egern did score twice during a match, but ultimately lost the game 20-2 despite their efforts.