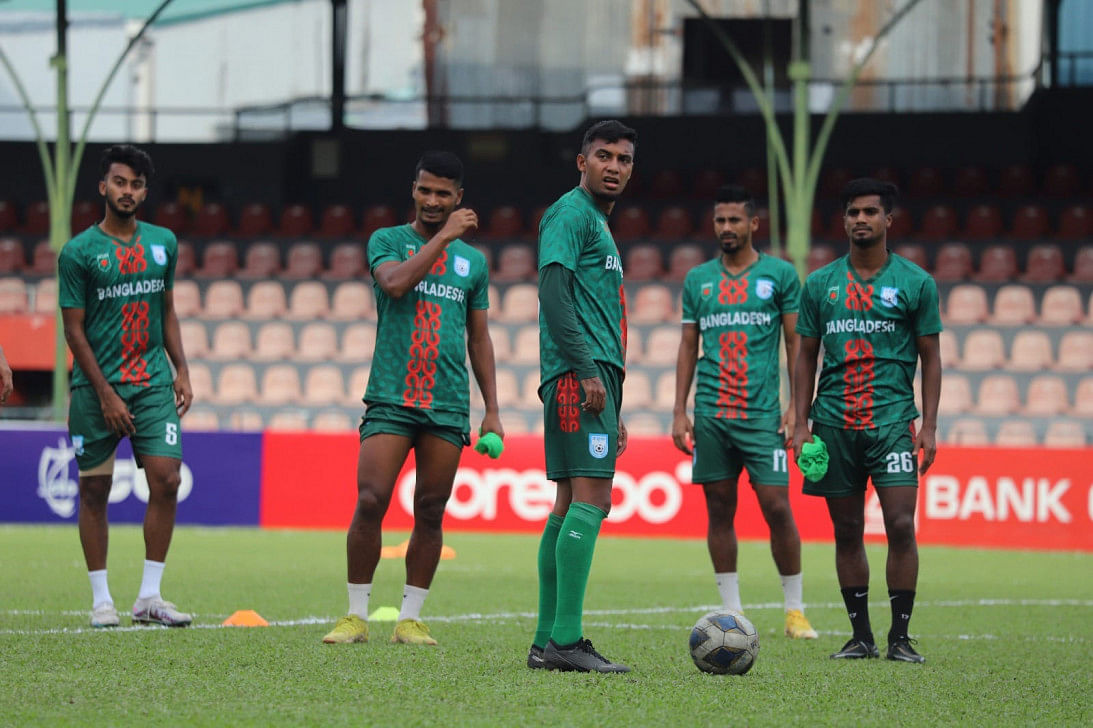 Bangladesh will strive for a favourable outcome against the same opponent in their away encounter in the preliminary round of the World Cup Qualifiers today. Taking motivation from their victory over Maldives by a score of 3-1 in June's SAFF Championship, Bangladesh will be playing against Maldives.
The match is scheduled to begin at 5:00 p.m. (Bangladesh time) at the Male National Stadium, which is a location at which Bangladesh was unsuccessful in all three of the matches they played between 2016 and 2022.
With some impressive showings in the SAFF Championship and in friendly matches against Afghanistan, as well as several tight battles in the Asian Games, Bangladesh will most definitely be expecting to return home with at least a point after playing Maldives. However, Coach Javier Cabrera is mindful of the potential threat that might come from the Maldives squad, who defeated Bangladesh 2-0 in Coach Cabrera's first international assignment with Bangladesh in 2022.

We are perhaps at our most confident point after competing in the SAFF Championship and the Afghanistan games. Cabrera said this at the pre-match news conference that took place yesterday in Male. "But we will have to remember that if we are overconfident against the Maldives, we will get punished," Cabrera warned.
"We are well familiar with the Maldives. We are aware of the capabilities they possess. We are optimistic about our performance, but we are very aware of the challenges that await us tomorrow (Thursday). The coach said, "With a lot of respect to the Maldives team, I hope that we will get the result tomorrow (Thursday) and continue growing and growing."
The coach, who is 39 years old, also communicated the ultimate objective of his players since he is aware of the repercussions of a result against Maldives, who are ranked 34 places higher than Bangladesh in the FIFA standings.
"The first objective is to qualify (for the World Cup Qualifiers) because if we qualify, we will face very strong teams where there will be challenges for us to become a better team," Cabrera told reporters.
Despite the fact that Bangladesh prevailed over Maldives in their most recent match, it was the Maldivian club Maziya SRC that defeated the Bangladesh champions Bashundhara Kings in the AFC Cup recently. Both clubs had a number of players who are now on their respective countries' national teams.
Captain Jamal Bhuiyan is likewise dead set on making a good impression in front of an audience that will likely include a significant number of Bangladeshis living abroad.
"There are a lot of Bangladeshi people in Maldives who want to support our team, which is contributing to the positive energy that is being generated here." At the same time, it is considered to be the Maldives' native land. The mood and the setting are likely to be challenging as a result. Therefore, it is the responsibility of the players to perform well on the pitch, and we will need to deliver tomorrow', stated Jamal.
In the absence of seasoned goalkeeper Anisur Rahman Zico, talented striker Sheikh Morsalin, and defender Tapu Barman, who were all a part of Bangladesh's campaign for the SAFF Championship, Cabrera is expected to choose goalkeeper Mitul Marma, who had a solid performance in the Asian Games. In defence, the Spaniard will most likely select between Rahmat Mia and Saad Uddin, while in attack, he will most likely choose between Faisal Ahmed Fahim and Suman Reza.