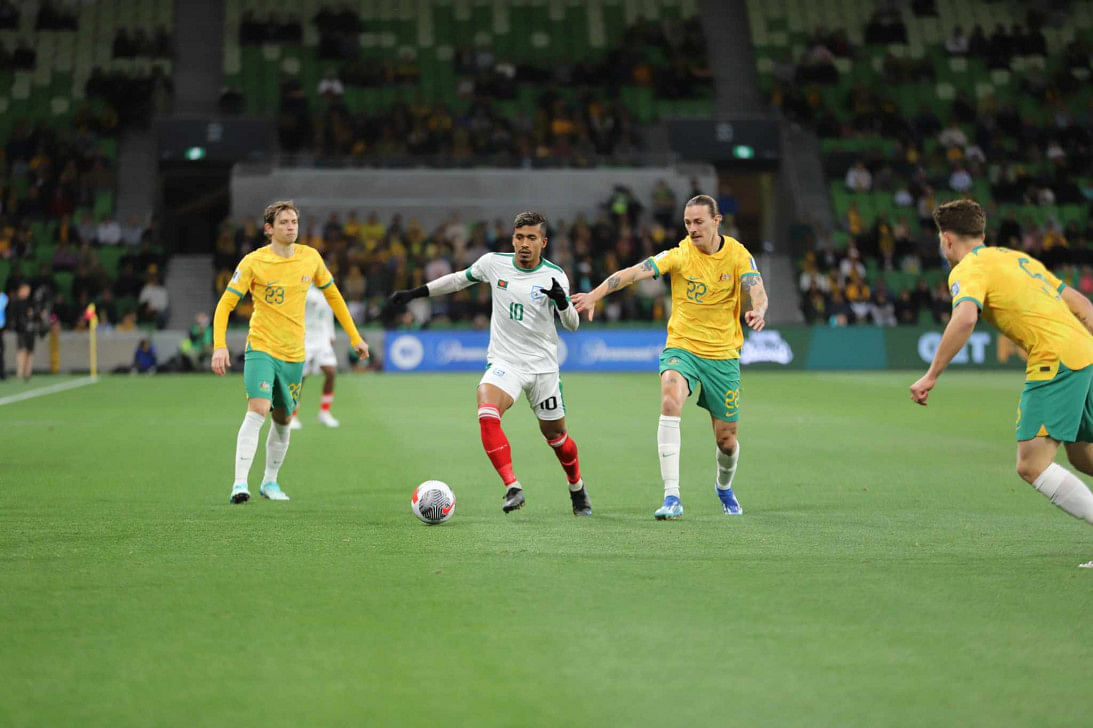 Bangladesh lost to Australia 7-0 in their first Group I match today at the AAMI Park Stadium in Melbourne. This was the second worst loss in FIFA World Cup Qualifiers history for Bangladesh.
The FIFA rankings put Australia 156 spots ahead of Bangladesh. From the first minute to the end of the game, Australia controlled.
They went ahead 4-0 in the first half and scored three more goals in the second half, with replacement forward Jamie Maclaren scoring all three. Bangladesh could not do anything to stop them.

The team led by Spanish coach Javier Cabrera couldn't show the progress they wanted to make against a better Australia team, and they couldn't even recover some honour in the loss, even though they started out by parking the bus in the box.
With one more goal, they would have tied their worst ever score in a FIFA World Cup Qualifying match, which was 8-0 against Jordan in the 2018 Qualifiers.
This is Bangladesh's second-worst finish in the qualifiers. They lost to the UAE by the same amount in the 1994 qualifiers.
In 2015, the guys in red and green lost both games against Australia (5-0 and 4-0) in the Russia World Cup Qualifiers.
The players under Cabrera have been putting on some good shows lately, but they didn't know what to do when they played Australia, who was much stronger than Bangladesh and took full advantage of it.
Harry Souttar, a defender who is 6.6 feet tall, gave Australia the lead with a simple goal in the fourth minute. In the 20th minute, Brandon Borrello doubled the lead by tapping in from close range.
Michell Duke made it 2-0 with a simple header in the 37th minute, and he scored his second goal with a rebound in the 49th minute.
Jamie Maclaren came on for Duke in the second half and scored three goals, one in each of the 49th, 70th, and 84th minutes.