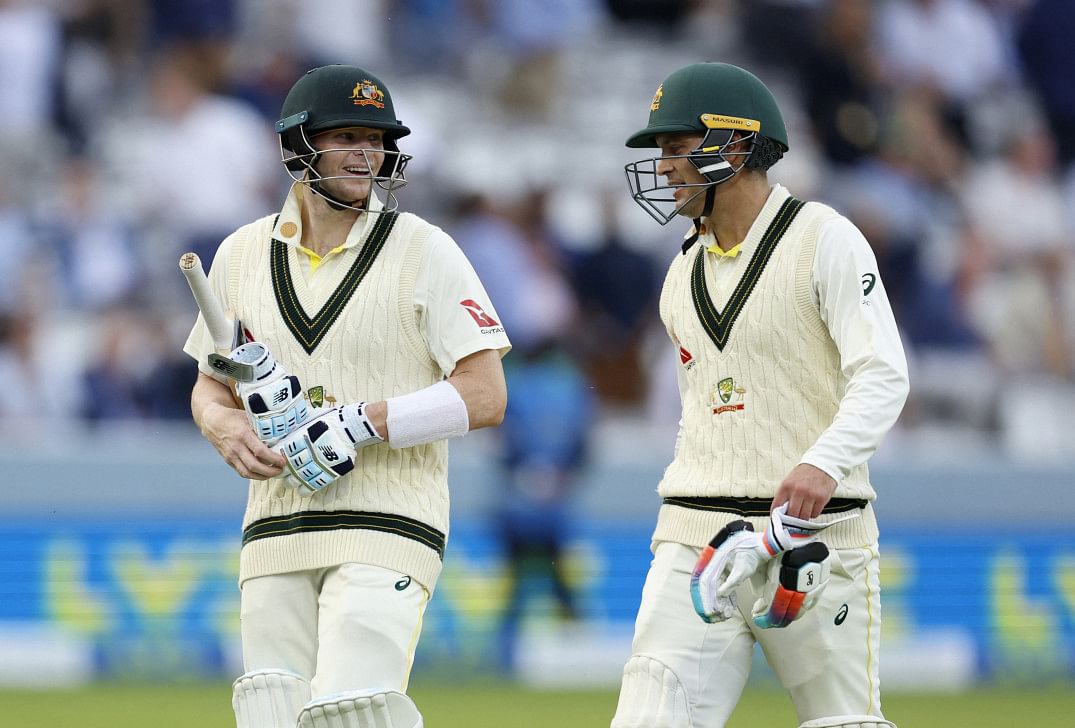 On the opening day of the second Ashes Test, which took place on Wednesday at Lord's, Australia reached 339-5 thanks to Steve Smith's undefeated score of 85, while England failed to capitalize on the favorable bowling conditions.
Under cloudy skies and bright floodlights at Lord's, England captain Ben Stokes won the toss and elected to put Australia in to bat. He did so with the expectation that his team would be able to take early wickets and draw level with Australia in the series.
Marnus Labuschagne scored 47 runs, and Travis Head made a speedy 77 to put Australia in a dominating position. However, David Warner and Usman Khawaja rode their luck to share a tenacious opening partnership of 73 runs. Despite the fact that Josh Tongue removed them both, Marnus Labuschagne produced 47 runs, and Travis Head made a rapid 77.
The fact that Joe Root took out both Head and Cameron Green in the same over gave England a glimmer of hope towards the end of the game, but ultimately, the day belonged to Australia.
After one over, the game was interrupted when two protestors from Just Stop Oil stormed onto the pitch and threw orange powder on the outfield, but Warner and Khawaja were not disturbed by the incident.
They overcame the challenging bowling of James Anderson and Stuart Broad, and after a brief rain break, Warner completed his fifty by hooking Tongue for six runs. Shortly before noon, Khawaja was bowled by the same bowler for 17 runs. After the rain interruption, Warner scored his fifty by bowling Tongue for six runs.
Each batter was dropped in the slips, with Khawaja giving Root a very difficult opportunity and Warner giving Pope a crisp one to field. Root and Pope both made the catch.
Warner continued to play a risky game after lunch as well, especially against Tongue, who maintained his brilliant stint by bowling the left-handed batter through the gate for 66 with a magnificent swinging ball, bringing the score for Australia down to 96-2.
Smith was greeted with a chorus of jeers as he walked from the pavilion; however, he swiftly composed himself and silenced the crowd with two magnificent drives off Broad to the cover boundary.
Broad came close to getting his vengeance when Smith was called out caught by wicketkeeper Jonny Bairstow in the same over for 24 runs, but the batsman appealed the judgment, which resulted in the call being reversed.
Labuschagne got off to a poor start but eventually found his groove, hitting three fours off of one of Broad's overs. When Stokes came in to bowl, the Australian right-hander stroked him three times to the boundary after he brought himself on to bowl.
Broad felt that he had caught Labuschagne lbw, the umpire raising his finger before the batsman was reprieved, but the Australian batsman left shortly after tea, feathering a catch to Bairstow off of Ollie Robinson. Broad thought that he had captured Labuschagne lbw, the umpire raising his finger before the player was reprieved.
As the England bowlers struggled to maintain their pace in the last session, Head joined Smith and helped quicken the scoring rate.
Smith hit fifty, and Head reached his half-century off of only 48 balls, the two of them peppering the boundary rope all over the pitch as they played.
After hitting 77 runs off 73 balls, Bairstow was able to get a stumping off of Root for Bairstow. Three deliveries later, Cameron Green took an awkward swipe at the spinner, which gave Anderson a clean catch at mid-off. Head's innings ended then.
It was a nice ending to an otherwise disappointing day for England, during which Stokes appeared to be lacking in creative ideas and employed very few of the unique field setups that have been a hallmark of his captaincy.
After six days of the series, England's chances of regaining possession of the ashes are dwindling due to the fact that he only bowled three overs.