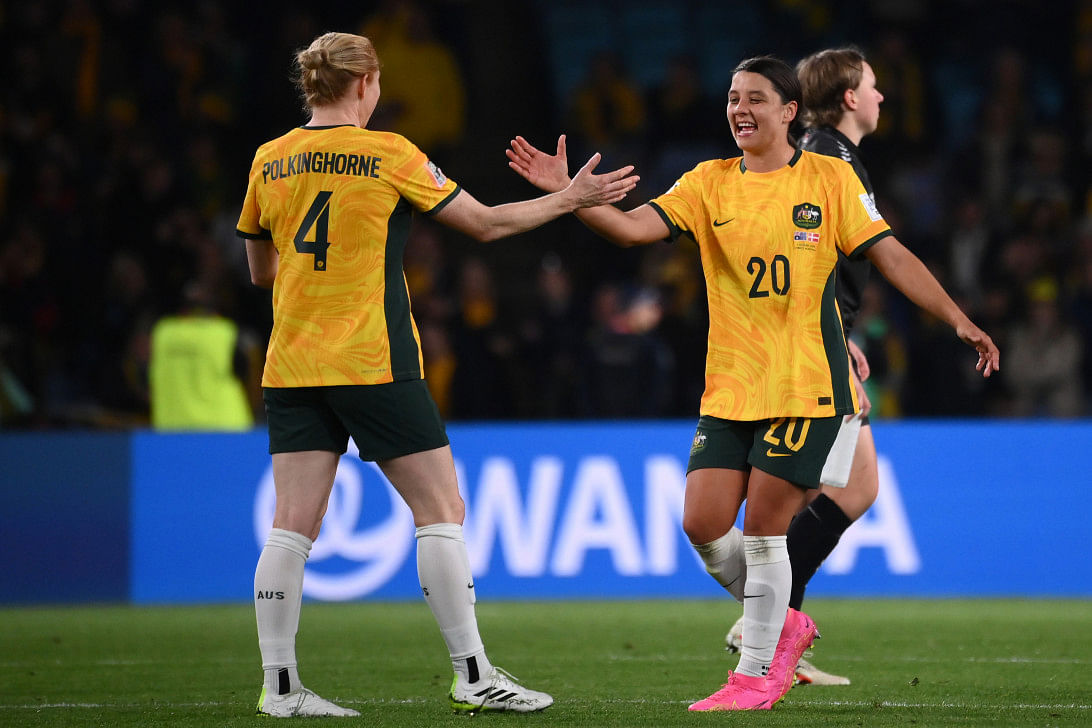 Sam Kerr came off the bench as Australia beat Denmark 2-0 in front of nearly 76,000 fans in Sydney on Monday to advance to the Women's World Cup quarterfinals.
After beating Denmark pretty easily, the co-hosts will play either France or Morocco in the last eight on Saturday in Brisbane.
To top off a good night for the Matildas, captain and star striker Kerr came on with 10 minutes left to a lot of cheers for her first action of the event after hurting her leg.

Denmark was scared of Caitlin Foord the whole time, and she scored a great goal after Mary Fowler set her up on the 29th minute.
Twenty minutes from the end of the game, Hayley Raso scored again to make the game safe.
Denmark was playing in its first knockout game at the World Cup since 1995. They almost scored first, but Rikke Madsen just missed the ball as he slid in on goal.
Australia is placed 10th in the world, while Denmark is 13th. The Danes could have taken the lead after 15 minutes at Stadium Australia, but Pernille Harder's shot went right at goalie Mackenzie Arnold.
Early on, Australia was on the back foot, but Fowler played Foord in with a great long pass down the left side. This was against the flow of the game.
The forward for Arsenal still had a lot to do, but she did it beautifully. She used her right foot to move the ball into her path, and then she used her left foot to shoot the ball through goalie Lene Christensen's legs.
With her speed and moving down the left side of the field, Foord was all over the Denmark defense.
After a few minutes, she ran down the wing again, cut back inside, and shot with her right foot. The ball took a big bounce and went just past the top corner.
In the second half, Foord seemed to be everywhere. He slid in to stop a counterattack by Denmark, which got Australia's coach, Tony Gustavsson, to cheer loudly.
Just after the hour mark, Denmark's coach, Lars Sondergaard, had enough. He brought on players Signe Bruun and Mille Gejl to try to get the goal they needed to stay in the World Cup.
Janni Thomsen, a defender, got tired of Foord and roughed her up as she headed straight for the Danish box. She was given a yellow card.
The crowd thought there might be a second, and sure enough, there was. Fowler again played a key role in setting up Emily van Egmond, who then set up Raso to shoot into the bottom corner.
But the biggest cheer of the night didn't happen until Chelsea attacker Kerr, who plays for Australia, showed up late to the World Cup party as a sub.