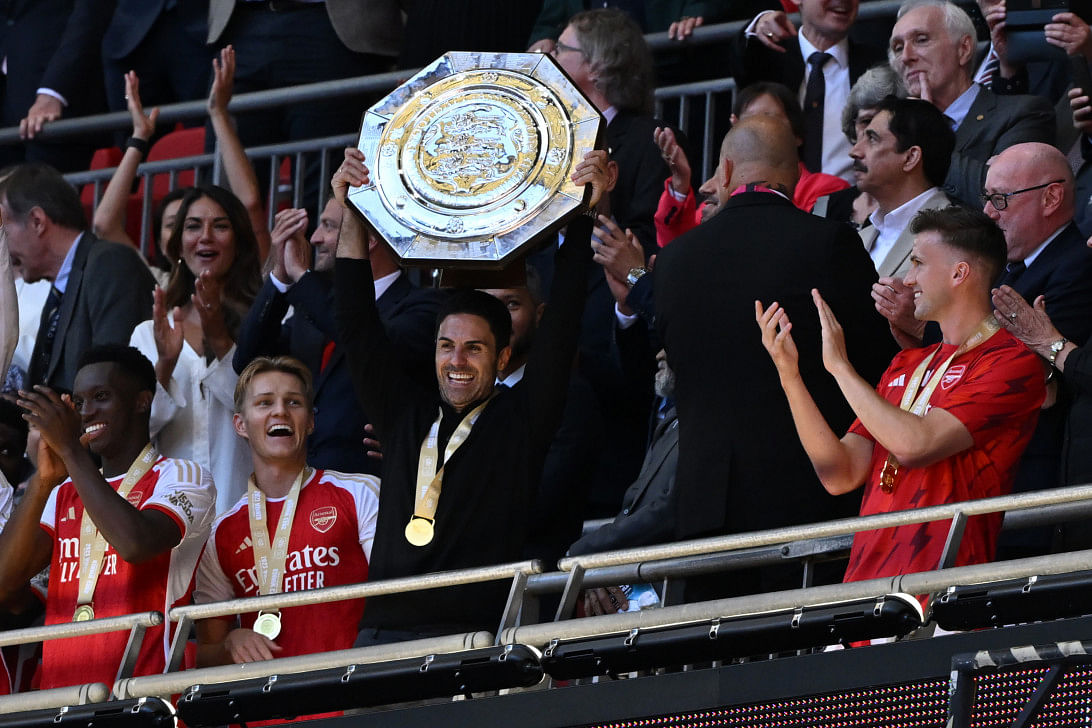 Mikel Arteta thinks that Arsenal's win over Manchester City in the Community Shield shows that they can compete with the triple winners for the Premier League title.
Arteta's team sent a strong message before the new season by coming back to beat City 4-1 on penalties at Wembley on Sunday after a 1-1 draw.
Cole Palmer's great curler gave City the lead in the 77th minute, but Arsenal didn't give up, and Leandro Trossard tied the game 11 minutes into stoppage time with a blocked shot.
It was the same kind of lucky break that Arsenal didn't get when they blew an eight-point lead in the race for the title last season. This let City win their fifth Premier League title in six seasons and keep their rule going.
The Gunners took full advantage of Trossard's lucky equalizer, scoring all four of their penalties in the shootout while Kevin De Bruyne hit the bar and Rodri's shot was saved by Aaron Ramsdale.
When Fabio Vieira scored the winning spot, Arteta and his players went crazy in a moment of relief after their title troubles.
The new Premier League season starts on Friday, and Arteta is sure that his team's escape act at Wembley will be a good sign.
"It's great if the players think they can beat every team. Arteta said, "I think we showed a lot of will and fight to win the game."
"It was fair that we won against a team that had been to so many games.
"Winning a trophy at Wembley against the best team in the world is about as good as it gets."
Arteta was also encouraged by how well Declan Rice and Jurrien Timber played in their first games after joining the team at the end of the season.
Kai Havertz, Arsenal's other big signing from last season, was less impressive. He missed two great chances and kept up the inconsistent play that led Chelsea to sell him.
Arteta supported Havertz by saying, "Havertz was great. The way he pressed put him in great positions to score. I thought he did a great job.""We can do more"
The Arsenal boss also defended the new rules about losing time, which led to eight minutes of stoppage time and five more minutes because of injuries in the extra period.
"We'll have to be ready to play for 100 minutes every week, so we'll have to get used to it. "It's good because it was going in the wrong direction too much," he said.
Since extra time was added to stoppage time this time, it was no surprise that City manager Pep Guardiola didn't agree.
"It's a good question for the foreign board, since they don't talk to coaches and players. He said, "Now the games will last 100 minutes."
"Today, nothing happened, and eight minutes went by. If the score is 4-3 and you put 45 seconds on the clock for seven goals, I will still be playing tomorrow morning!"
In recent years, the winner of the Community Shield rarely went on to win the Premier League, so Arteta was quick to tell his players not to rest on their laurels before the first game of the season against Nottingham Forest on Saturday.
"Today, you won a prize. Tomorrow, you have to train and get ready for the Forest game, which will be very different from this one. It makes you feel better, but that's all," he said.
City must show that they still want to win after becoming only the second English club to win the Premier League, Champions League, and FA Cup all in the same season.
Even though Arsenal looked more motivated for most of the game at Wembley, Guardiola had no issues about how City played.
"I can't believe how well we acted. We were up against a very good team. The goal was to give the players more playing time and get them ready for Friday's game against Burnley, he said.
"We just finished a very difficult season. I understand how hard this can be. We want to do better because we know we can."
Guardiola wanted to make sure people didn't get too upset about the loss, so he pointed out that City had won titles after losing the last two Community Shields.
"We've lost the last three. Why do you ask? We're here because we won the Premier League!" he said.