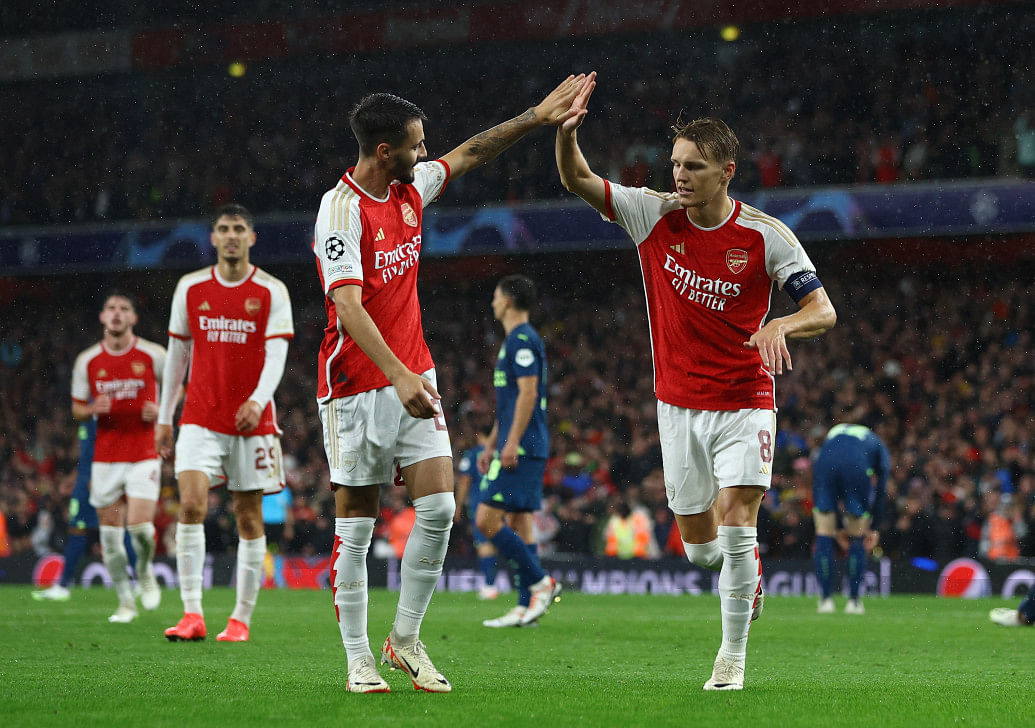 Mikel Arteta praised Arsenal's "beautiful" Champions League comeback on Wednesday, as the team destroyed PSV Eindhoven 4-0 with to goals from Lean
Arsenal easily defeated the overmatched Dutch league leaders to demonstrate their ability to handle the step up in quality. Arsenal is back in Europe's top club competition for the first time in six years.
At the Emirates Stadium, Saka scored his first goal of the game and then set up Trossard to increase the advantage as Arteta's team ran riot in the first half.

After converting from goal scorer to supplier, Trossard assisted Gabriel Jesus for the third goal, and Martin Odegaard sealed the victory after the interval.
"After a very long time, it was a lovely night. The Champions League music and atmosphere were fantastic. Before the game, it was emotional, according to Arteta.
"We must harness that energy. Despite my intense excitement, I tried to keep my feelings under check. We must savor these evenings. It's a memorable one."
In March 2017, Arsenal's final match in the tournament ended in a devastating 10-2 aggregate loss to Bayern Munich in the round of 16.
Despite their lack of Champions League experience, the Gunners are a significantly more fearsome force today, and they should easily win Group B, which also includes Lens and Sevilla.
With four victories out of five in the Premier League, Arsenal is undefeated and looking to avenge their collapse in the championship fight from the previous season.
However, Arteta's team is also highly motivated by the opportunity to go to the Champions League's latter rounds, a tournament they have never won, and they are up to the challenge as a result.
"The difference was that we performed really well in both boxes. This squad is wonderful to see as they sprint with great speed. Top-notch finishing was achieved," Arteta said.
"Though it's amazing to score four goals against a team that has won every game this season, there was still much that could have been done."
In his first Champions League game as manager, David Raya held his spot after Aaron Ramsdale was replaced by the on-loan Brentford keeper for Sunday's Premier League victory against Everton. Arteta was rewarded with another clean sheet.
A sense of excitement pervaded the Emirates Stadium before to the start of play.
Arsenal supporters were so enthralled with the event that they responded to the Champions League song with an ear-splitting shout, despite the pouring rain.
Pitch fever
When Saka gave Arsenal the lead after only eight minutes, the roar from the supporters became unbearable.
Walter Benitez of PSV just parried Odegaard's effort from the outside of the box, and Saka quickly recovered to score well from close range.
Goals were falling in the pouring rain, and in the 20th minute, the incisive ball from the energetic Saka found Trossard, who finished well on his first attempt, beating Benitez from the outside of the area.
Jesus again tore past the PSV defense, demonstrating that his youthful enthusiasm for the Champions League hasn't diminished. This week, Jesus confessed that he sometimes skipped school to watch matches on television as a youngster.
In his 22 Champions League games for Manchester City, Jesus has scored 14 goals, and he added another after 38 minutes.
Jesus was found by Trossard's pinpoint cross, and he punished PSV's terrible marking by slamming his effort into the far corner from eight yards out.
Since their Champions League match against Galatasaray in 2014, Arsenal have not scored three goals in the first half of a match before.
In order to safeguard his important players ahead of Sunday's north London derby against Tottenham, Arteta made a number of second-half alterations.
Odegaard made sure the mood didn't go away in the 70th minute by putting a fantastic 20-yard shot past Benitez, capping Arsenal's ideal evening.