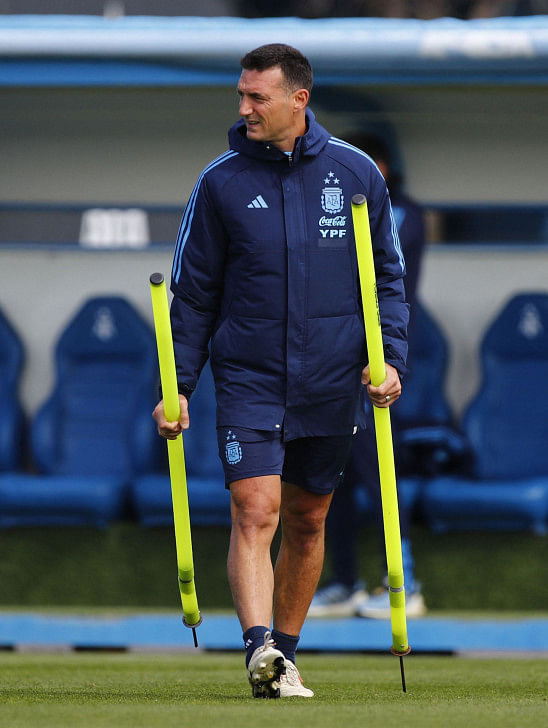 Argentina will have the opportunity to start their World Cup qualifying campaign with back-to-back victories when they travel to La Paz for Tuesday's clash with Bolivia. However, the World champions will have to deal with the challenging altitude in addition to the possibility of playing the game without their captain Lionel Messi.
Hernando Siles Stadium is a football pitch that will pose a new kind of challenge for the Argentinian side due to its altitude, which sits at an astounding 11,932 feet above sea level. The match between the Albiceleste and Bolivia will take place at this stadium.
Argentina's challenge will be compounded if Lionel Scaloni decides to rest star forward Lionel Messi, whose late freekick saw the three-time World Champions eek out a 1-0 victory against Ecuador in their first qualifying game on Friday. Players need to be at their utmost fitness to deal with the altitude challenge in Bolivia, and Argentina's challenge will be compounded if Lionel Scaloni decides to rest Messi.
Messi, who is now 36 years old and traveled with the team, although he is not a lock to start in the game due to fatigue. Messi had expressed a desire to be replaced in their most recent match.
Even though Messi is healthy enough to play in the game against Bolivia, Scaloni stated that a decision regarding whether or not he will even participate in the match will be made today.
"Leo trained on his own, but he is in good shape. There are two more days remaining, and in the next one, we will decide whether or not he will participate in the game on Tuesday or the day before. Scaloni stated in his pre-match press conference in Argentina before departing for Bolivia that Messi and Cuti Romero are both fit. "We'll see if he [Messi] plays from the start or from the bench or even if he doesn't play," Scaloni added on Messi's potential playing status.
While the defending world champions look to build on their triumph over Ecuador on Thursday, the home team will have to regroup after suffering a crushing loss to Brazil in their previous match.
The first game of Bolivia's qualifying campaign was a forgettable performance against Brazil, who has won the World Cup five times already. Brazil strolled to a 5-1 victory over Bolivia in Bellem.
Bolivia's head coach La Verde will lead his team into the challenging match against the reigning world champions as a major underdog. Bolivia had lost their last five qualifying matches.