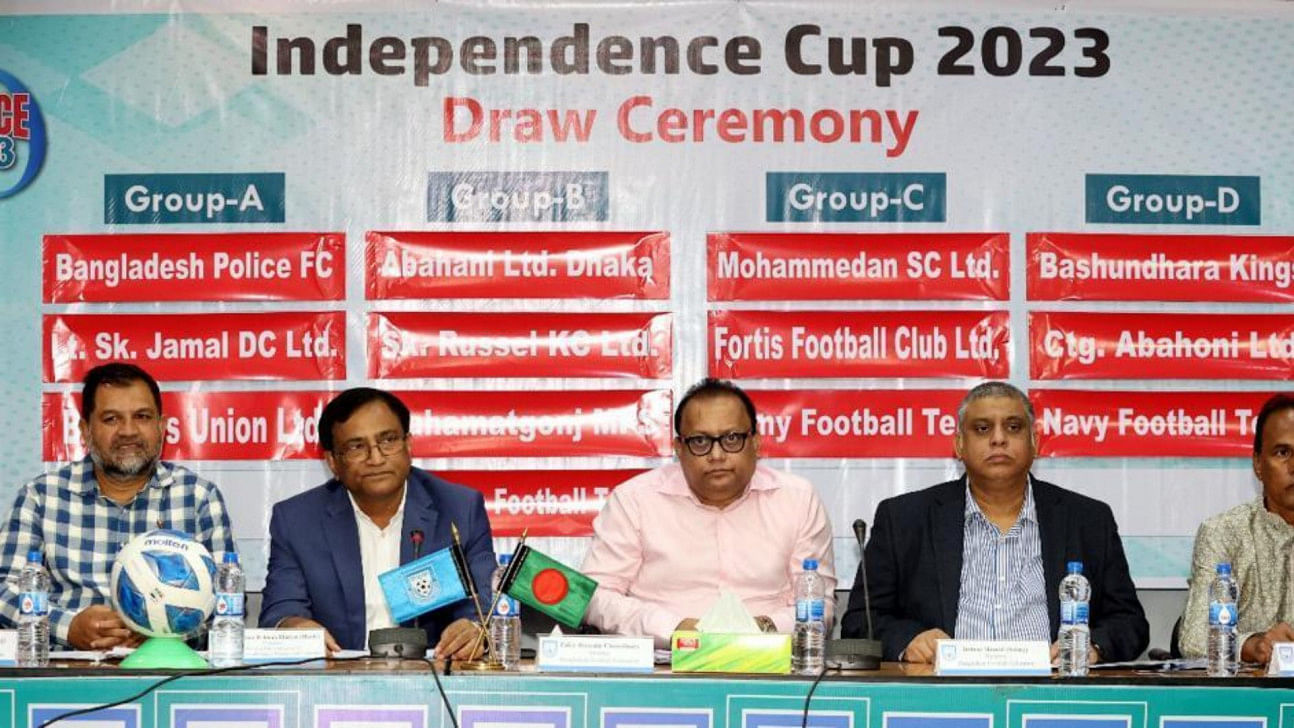 In the forthcoming 13th edition of the Independence Cup, heavyweights Abahani and Bashundhara Kings will meet just before the final.
At today's BFF House competition draw, the two local heavyweights were placed in different groups for the upcoming season.
Thirteen clubs (10 from the Bangladesh Premier League and 3 from qualifiers) will compete in four groups in a round-robin league format, with the top two teams from each group advancing to the quarterfinals.

Abahani and the Kings, the current holders and two-time champions, could play in the semi-finals if both teams finish first in their respective groups. After regulation and overtime ended 1-1, the most recent time this occurred was in 2018, when Kings prevailed 7-6 in tiebreakers.
In terms of facilities, the district cricket league has blocked the use of the district stadium by the Cumilla District Sports Association. Because of this, just three venues, rather than the original four, will host the tournament: Dhaka's Bashundhara Kings Arena, Mymensingh's Birshreshtha Shaheed Flight Lt. Matiur Rahman Stadium, and Gopalganj's Sheikh Fazlul Haque Moni Stadium.
On October 27, the knockout stage of the tournament will begin with three games, including a rematch between last year's quarterfinalists Abahani and the Air Force Football Team, who advanced with a 2-0 win over Dhaka University on Monday.
After the conclusion of the group stage, Ataur Rahman Bhuiyan Manik, the vice president of the Bangladesh Football Federation, said that there would be no more games for a month. This is because of the November 7–27 World Cup Qualifying and AFC Cup commitments of the national team and the Kings, respectively.
Type A
Brother's Union, Sheikh Jamal DC, and the Bangladesh Police Football Club
Class B
Air Force FT, Rahmatganj MFS, Sheikh Russel KC, and Abahani Ltd.
Cluster C
Army FT, Mohammedan SC, and Fortis FC
Class D
Navy FT, Chittagong Abahani, and Bashundhara Kings